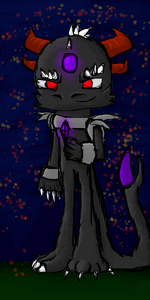 Full name: Dargearmor Radical
Initials: D.G.M. (most frequently used initials) and D.G.M.R. (rarely ever uses those initials.)
Rad is his nickname, and it could very well have been derived from the first 3 letters of his first name, "Dargearmor", but reversed. It could also be short for "Radical".
Rad is a dragon who was hired by Sun to kill Storm's kids (which were Sparkle and Paige), but Storm didn't care. Rad is supposedly from DarkenVolt, but he hasn't been seen recently, so he could possibly have been from DarkCore, or somewhere else. Rad's elements are fire and darkness, but he MIGHT also be able to control electricity, but no one knows...
More recently, Rad killed Heatail, which disappointed Storm, as she wanted to be the one to kill Heatail.
Family Tree
                          ???           ???
                           |             |
                            -------------
                                  |
                                -----
                               |     |
                   Torn      Soliza ???       ???
                     |         |     |         |
                      ---------       ---------
                          |               |
                        Shred           Slyuk   Suukel                                Prufido  Toxage
                                          |       |                                      |      |
                                           -------                                        ------ 
                                              |                                              |
                             Solstice       Cloudy                                         Equin                           Cyridmor         Chiniada
                                |             |                                              |                                 |                |
                                 ------------- ----------------------------------------------                                   ----------------
                                      |                                                |                                              |
                     Litaegis        Sun         Arater    Clarus   Thief            Storm                                           Rad
                         |            |             |        |        |                |                                              |
                          ------------               --------          ---------------- ----------------------------------------------
                                |                        |                     |                                |
                        ----------------                 |                -----------          -------------------------------------------
                       |         |      |                |               |           |        |       |         |           |             |
                 Gravinixira  Aestus  Aridi          FilthyMane       Sparkle      Chull   Kartul  Pasukan   Valesade   Nerchordis    Splartrix
                                                         |               |
                                                          ---------------
                                                                 |
                                                                Eris