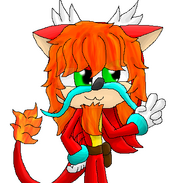 A red "Chinese" hedgedragon, who was a Zarqunic dragon all along. While previously, he has said his name was Heatail, that was a cover, as his real name, He'Til, is obviously not a Trollic name. He has been sought out by Queen Dyorda for as long as she has ruled the hedgedragon kingdom, who deemed him an outlaw for assisting citizens who had broken her ridiculous laws. In dragon form, he is 15 feet tall, while in hedgedragon form, he is 3'9".
Ad blocker interference detected!
Wikia is a free-to-use site that makes money from advertising. We have a modified experience for viewers using ad blockers

Wikia is not accessible if you've made further modifications. Remove the custom ad blocker rule(s) and the page will load as expected.