Draco the hedgedragon was a special red hedgedragon (essentially the Purple Dragon of the 2006 Spyro game trilogy) "destined to save/protect the world." As one can expect when a 13 year old is controlling an all-powerful entity, things exploded.
Beginning
Edit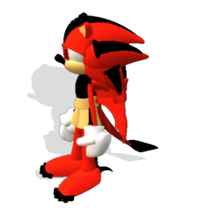 The young, duty-bound "hedgedragon" (a hedgehog-dragon hybrid that somehow naturally occurred) never really knew how to take a joke. She was hotheaded and filled with teenage angst, and had quite the dirty mouth with all of her cursing. Her dreaded enemy was her 13x great grandfather, Volgar, who was a genocidal maniac that enslaved her and other useful hedgedragons at a young age before completely losing his mind and forcing the sun to supernovae. It would have killed all life on the planet, had some time anomalies later on in Draco's life (most of it spent in a gemstone on a desolate rock) not stopped it. This is revealed to be the work of Zen the hedgedragon, Draco's best friend and the hedgedragon of Time, who disappeared soon afterwards.
Her heart emerald, which was essentially a large, blood red emerald with obsidian impurities located within her heart itself, often played a large role in the plots of villains. It was weak and, due to the obsidian, easy to shatter, which caused old, long-healed wounds to begin to appear on Draco until they killed her. Because of this, it keeps her alive when she should have been long dead, and is believed to have a healing effect on whoever wields it, effectively keeping them young or making them immortal.
Not that dragon hybrids didn't live for a long time already...
Only twenty hedgedragons total had heart emeralds, and all of them were victims of Volgar's reign. It is speculated that it was because of Volgar that heart emeralds exist; As some sort of cruel experiment meant to empower his future soldiers... Before he lost his mind and tried to kill everyone, that is.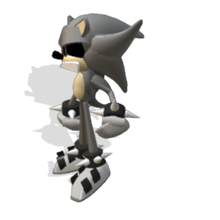 Turns out, the experimentation also involved putting entities of pure evil into those same experiments. When Draco lost her temper for the first time since gaining freedom, a magical parasite was freed and took form as her opposite self; A male hedgehog named Mako.
He talked too much and was beaten easily by Hype.
Adventure after adventure, Draco finally found herself alone again on a planet that had essentially been reborn since its initial destruction (or so she thought) when Volgar had brought about doomsday. So, she took a walk.
Meeting Drogoth and Arc
Edit
It didn't last long when she was bitten by a sea monster, which she simply called a bio eel. Its venom could have killed her, but she received assistance from a black and blue hedgedragon named Drogoth. Her life saved, she thanked him, and would have left had there not been another war with a resurrected Volgar.
They fought, they adventured, they vacationed... Drogoth began to flirt with Draco. Despite the amount of time she had spent hiding in her heart emerald, waiting for the planet to come back to life, Draco was only 14. Drogoth was 22.
While they were dating, they were captured by a criminal that they were trying to stop, a cybernetically enhanced hedgehog named Arc. Held by special metals and crystals that weakened dragons, they were tortured, beaten, and disfigured over a period of years until Arc found love in an alternate form of Draco, and then rescued his parents. His parents were disappointed in what he was doing, so he eventually threw Draco and Drogoth back out to their world... But didn't undo what he did to them.
Of Strength, Duty, and Children... What?!
Edit
After Draco's old mentor, Drakis, helped and healed them, their adventures, flirtation, and life-threatening situations continued-- one of which required magic and technology to come together and convert drogoth's father's (somehow naturally occurring, don't ask me it was his character idea) diamond heart into Draco's new gemstone to save her life. He somehow survived, as he didn't need it to stay alive.
With a diamond heart instead of a heart emerald, Draco was much more powerful, but much more dangerous when, after rejecting his initial proposal, Drogoth let the darkness consume him and needed her to take it from him. When it consumed Draco, Drogoth kicked her ass straight and proposed again soon after. Making up the excuse that she might have missed a few birthdays, saying she was 21 when she was still only 14, she accepted.
Volgar returned soon after the wedding and Drogoth's immediate talk with Draco about wanting kids, which she had turned down because she didn't want them and wasn't ready to have them. Drogoth was too bummed out to go face Volgar with her, so Draco left to finish him off with the most dangerous move in her arsenal: The White Dragon's Last Resort. Essentially, it's a huge nuke-like explosion that's meant to purify evil, having a chance to kill the user if it's not used correctly.
This is where the first Draco actually died. *** We'll get to that when these astrisks appear again.
Another two adventures later, and Draco and Drogoth begin to be at odds with each other. Draco is being pushed to the sidelines as Drogoth continues to force her to stay out of what is supposed to be her job; Protecting the planet from threats. Whenever she begins to get involved, he forces her out of the situation, making her feel useless and angry.
There was no real resolution to the issue.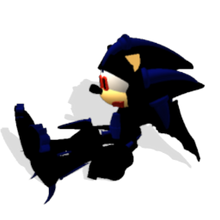 Later, after a date to re-spark their romance, they have a walk on the beach, and, well, the birds and the bees happen... They later actually have a kid. They name him Dralo.
Dralo (right)
For a while, things are peaceful. Then, Drogoth gets some strange idea in his head that Volgar wasn't evil, and wants to go save him. Draco vehemently refuses, and Drogoth drops it for a while before going back in time and replacing Volgar with a dummy right before Draco's attack hits. *** Since it was not used correctly, Draco died, causing a time paradox.
Draco was so upset and angry when she found out that she and Drogoth had an argument. With her husband twisting the situation to make it look like Draco was the bad guy for not wanting to "help" an obviously evil, genocidal maniac that was acting like an innocent person. She teleports to another planet to visit Tails, borrows two chaos emeralds, and proceeds to make a time paradox.
With the universe changed, her son and husband now exist out of time. She keeps her son, but makes the mistake of allowing Drogoth back into her life, where they live in peace for about a year before Arc and his new family make a return. Since he had changed over the past few years (which were TRILLIONS for Arc's family) hey opt to forgive him.
Eventually, an alternate version of Drogoth, then disguised as a mysterious thief, gets his hands on a magical book and causes no end of trouble for the group. During Arc's son's wedding, he kidnaps Draco and causes irreversible damage to her diamond heart. She is able to live normally at first, it seems, but not without what is essentially a magical seizure, shooting a beam of energy out of her diamond heart and being drained for the rest of the day as she tries to recharge. This is only discovered after Arc finds her dead on the ship and brings her back to life in the midst of Drogoth's rampage... Trying to destroy the thief and purge all life on the planet because the mun of the character decided that the Reapers from Mass Effect were cool and he wanted Drogoth to have that kind of power Draco's life force had faded.
Everyone and everything on the planet is dead by the time Arc and Draco stop Drogoth. Arc takes Draco to the space station to stay at while they try to figure out what to do. Draco lost her son, family, friends, and the planet she, once again, failed to protect, and begins losing her colors as the damage from the event-- psychological and physical-- take their toll.
Drogoth returns and, though Draco is clingy at first, eventually realizes that he doesn't actually care about anyone but himself. So, when Arc is able to revive Dralo and remake the memories Draco and Drogoth had of him, Draco is convinced it won't be him and proceeds to leave the room. Angry and upset, dealing with the loss of a child, she is beyond pissed when Drogoth says he's hurting a lot more than she is because he was the reason Dralo was dead.
Drogoth punched her and shouted at her.
Drogoth:*punches Draco across the face and tries to yell over her voice* LISTEN TO ME GOD DAMMIT!!!
Drogoth:IM TRYING MY BEST TO FIX EVERYTHING GOD DAMMIT! WHY CANT YOU JUST LISTEN TO ME!? DRALO DIED BY MY OWN HAND!! AND ITS WORSE THAN HAVING HIM GONE! IM EVEN SUFFERING NIGHTMARES OF WATCHING HIM DIE!
Drogoth:YOU WOULD NEVER UNDERSTAND BECAUSE YOU DIDNT KILL HIM... AND I THOUGHT YOU WOULD BE BETTER THAN THIS DRACO!! THAN TO JUST SIT THERE AND SULK IN YOUR DESPAIR LIKE A ****ING USELESS TOMATO!
Drogoth:YOUR NOT EVEN YOURSELF ANYMORE THAN TO JUST TO SAY SOMETHING LIKE THAT! AND TO NOT EVEN ****ING REALIZE THERES A WAY TO BRING HIM BACK! SO YOU KNOW WHAT... GO AHEAD! CRAWL IN YOUR OWN PROBLEMS AND WATCH AS IT LEADS YOU TO NOWHERE!! AS YOU DIE ALONE
...
Draco immediately left, all of her colors drained (right). She teleported to a cave to weave a spell that would hopefully revive Dralo, pulling the soul and pieces of something else out as she revived him, then left for another universe. When she was found, she fought, not wanting to be near Drogoth again, and as she tried to run, Drogoth decided that if she didn't want him anymore, she had to die. He struck while Arc was trying to talk her down, and Draco fought to hold Drogoth's attack back. Eventually, Arc froze Drogoth to make him stop.
Draco, having given up on Drogoth, proceeds to break his nose and try to leave as Arc continues to try and talk the two down, as well as comfort the near-dead hedgedragon. Drogoth breaks out of the ice and begins with one of the most manipulative lines ever.
Drogoth: Well its about to get even more depressing. *shows Draco his wedding ring* see this Draco? this is my wedding ring the one i wear everyday to remind how much i loved you...
It only goes downhill from there. He blames her for the situation and for not accepting his apology, despite the fact that he hit her previously, and just tried to kill her for not accepting.
Drogoth: And guess what? just because of some red hedgedragon who didnt took my apology seriously. and instead she yelled at her own son and hurt her own husbands feelings to the point where he went dark...
Drogoth: So since you want to be alone THIS badly. you can have all the alone time you want! I'll never be there. Never again...
Drogoth: *puts his glove back on* dont bother trying to take care of our relationship Arc... cause you dont have to anymore
So, with Drogoth being a little shit and divorcing her over his faults and promptly getting called out on his shit by Arc, his wife, and his now-abandoned son, Dralo, the divorced wife leaves to try and get her head back together as the curse of Drogoth lifted. She eventually agrees to come back to the station and take care of her son. Arc hatches a plan to resurrect the dead planet after rescuing survivors of a rip in space-time, and asks Draco about her plans for the future.
She finds a planet to stay on with her son that will be good for the boy to grow up on with some of the survivors of the Drogoth Massacre, and is brought back to the planet fifteen years later with a much more mature son.
Dralo had changed his name to Yol-Riik (right), which is Fire Gale in Skyrim's dragon tongue. The RP continues on with him as the focus due to the following events:
The damage done to Draco's diamond heart had finally caught up with it; One morning, when it lost all of the magic and energy it had, it began to pulse with small amounts of energy as it tried to recharge, causing the diamond to enlarge and shrink back with each one and Draco to experience near heart attacks before it finally imploded in on itself. Extremely tiny shards ripped all of her capillaries as they traveled through the bloodstream while the larger pieces exploded out of her chest.
She was dead minutes after she hit the floor, found hours later by her son, Arc, and one of Arc's children when they came back from a city that had been built during the time skip.
Her body was buried, but two ghosts persist; Her own, which faded once Yol-Riik found and read her book and the warnings within, and her past self's, the one that had died due to Drogoth's actions and hates Arc with a passion still.