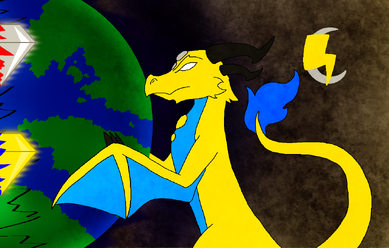 Summary
Over one million years ago, Electren and Sophus-Tempestas split NeuJoltis into two planets, DarkenVolt and BrightenBolt, to protect the powerful crystals after Storm went berserk and had to be sealed away. DarkenVolt was where mostly bad people ended up, but unfortunately, some good people ended up there as well. The sun never shines on DarkenVolt, as the neighboring planet, BrightenBolt, constantly blocks out the sun. DarkenVolt is farther from the sun than BrightenBolt, but never receives sunshine, as it moves faster than BrightenBolt.
Specific Locations
MoonLight Forest: The forest in which Storm's house, the headquarters of the Lunar Lightning, is located. The hedgedemon village is located in the deepest, most dense part of the forest, where the MoonLight Crystal used to be.
Marsh Island: Not much known is about this place, though it seems to be a small marshland that is completely surrounded by water. According to myth, there is a crystal here.
Mortem Wasteland: A desert bordering the MoonLight Forest. The Mortem Wasteland is split down the middle by the Terrafiant Valley. Just outside Mortem Wasteland on the side opposite the MoonLight Forest, Calamity City lies.
Terrible Tundra: An arctic region north of the Mortem Wasteland and MoonLight Forest. The people here don't trust hybrids, thanks to Shred's constant attacks on the village.
Magma Mountain: A mountain in the middle of the Mortem Wasteland. Not much is known about the mountain, but it is said that the hedgedemons hold rituals for their deceased here.
Calamity City: Shred's headquarters on the outskirts of the Mortem Wasteland.
Relation to DarkCore
Many species from DarkCore are illegal immigrants to DarkenVolt, such as the 'tearlash' and 'moonumi'. While the 'moonumi' is harmless, tearlashes can be a threat to anyone, considering how easily their weak minds can be manipulated. However, Storm and Sun seem to be an exception. The tearlash practically represents the planet for some reason...