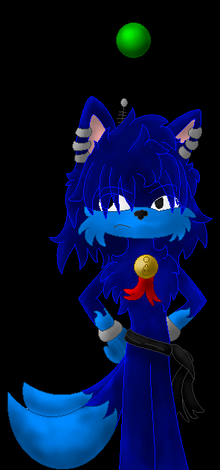 Blurry is an unusually tall Tails chao that has wings for some reason. The strange ball whatever thingy that floats above his head was chained to his head by a docodezo. He wears a black belt to show his mastery of martial arts. When not with Storm, he tends to watch over Storm's house on DarkenVolt. At one point, he lived with Static, but the reason why he no longer stays with Static is currently unknown.
Now Blurry is helping Sun, Darlec, Elector, Equin, and once again, Static, fight against TE6 and Shred.
Ad blocker interference detected!
Wikia is a free-to-use site that makes money from advertising. We have a modified experience for viewers using ad blockers

Wikia is not accessible if you've made further modifications. Remove the custom ad blocker rule(s) and the page will load as expected.